December 2018
| Mon | Tue | Wed | Thu | Fri | Sat | Sun |
| --- | --- | --- | --- | --- | --- | --- |
| | | | | | 1 | 2 |
| 3 | 4 | 5 | 6 | 7 | 8 | 9 |
| 10 | 11 | 12 | 13 | 14 | 15 | 16 |
| 17 | 18 | 19 | 20 | 21 | 22 | 23 |
| 24 | 25 | 26 | 27 | 28 | 29 | 30 |
| 31 | | | | | | |
Calendar


Here The list of most scarie movie ever released around the world
The Exorcist is a classic horror movie, and for a good reason.
This story of an innocent little girl possessed by an evil demon has been captivating audiences since the movie's release in 1973.
You won't forget the image of the child's possessed face, or her unnatural body positions, including the famous revolving head scene.
The claustrophobic nature of the setting – an ordinary family home – adds to the creepiness of the situation. It also helps that the acting is superb.
Last edited by Admin on Fri Jan 16, 2015 9:47 am; edited 3 times in total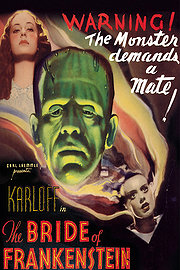 The Bride of Frankenstein (1935), a classic masterpiece of 1930s horror films, appeared as a superior sequel to the original prototype Frankenstein (1931). [There are so few sequels that are superior to their predecessors - another example would be The Godfather, Part II (1974).] While the film was in production, it was titled The Return of Frankenstein until it was released. The film's title is actually a misnomer - the 'bride' of Frankenstein was not the Monster's bride but Elizabeth (played by seventeen year old Valerie Hobson), Dr. Frankenstein's wife. [Mention of the film often drops the "The" from the film's title.]
The film that has become the master work in Italian horror maestro Dario Argento's canon, Deep Red holds up brilliantly despite the plethora of copycat slasher films it inspired in the years to follow. The film opens with a flashback murder shown from the perspective of a child while an eerie nursery rhyme plays. Cut to the present, pianist Marc Daly (David Hemmings) witnesses the murder of a psychic while chatting with his drunken pal, Carlo (Gabriele Lavia). While the police investigate, Marc joins forces with attractive reporter Gianna (Daria Nicolodi). Once Marc realizes that he is a target for the killer, he seeks help from Giordani (Glauco Mauri), a professor of the paranormal, who soon becomes one of the killer's victims. Marc's research leads him to an abandoned house where he discovers a secret room that hides a corpse. Before he can call the cops, he is knocked out and awakens to find the place in flames while Gianna holds him. Racing to the neighbors to call for help, Marc discovers an important clue that leads him to a nearby school where he finally finds the killer's identity. The madman attacks him, but the police arrive to save Marc. Though the case appears to be solved, Marc comes to the disturbing realization that one piece of the puzzle remains. ~ Patrick Legare, Rovi
one of the most Indonesian scary movie released on 1983, telling baby that have magic born in old face and make terror around village

---
Permissions in this forum:
You
cannot
reply to topics in this forum